We obtained ISO in quality control and environment management.
Electro-deposition coating is a coating technology in which the current is applied to the automobile body dipped in the coating, and was put to practical use in 1963 for the first time in Japan by Automotive Coatings Division of SHINTO PAINT CO., Ltd., the forerunner of our company. Electro-deposition coating is characterized by the fact that its environmental load is lower than those of other coatings. Our company consigns the production of this electro-deposition coating to SHINTO PAINT CO., Ltd., and licenses its production to the world.
In addition, our company obtained ISO 14001 for our Environmental Management System in 2003. While SHINTO PAINT CO., Ltd. obtained ISO 9001 for Quality Management System in 1997 and ISO 14001 in 2001. In this way, we are striving to improve quality and environmental load reduction of electro-deposition coatings.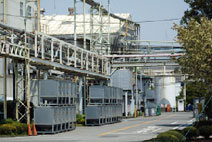 Return to the top of the page.
A plant as clean as a clean room, which maintains the homogeneity of components
Top coat which cover the surface of an automobile body are required to protect the automobile body from sun, wind and rain for a long time, and to provide smooth and flawless mirror-like properties.
For this purpose, homogeneity of components is vital. Also, efforts to prevent the infiltration of foreign substances should be made.
Our plant for top coat is manufacturing environment-friendly water-borne coatings. The plant is equipped with a clean room-like facility whose inside is kept at higher pressure than atmospheric pressure and prevents foreign substances from getting into the plant and coatings. Moreover, strict temperature control allows for maintenance of the homogeneity of components.