We respond to customers' demands and propose coating systems.
We arrange coatings according to customers' request, and sell them. An example is an energy-saving and CO2 emission reduction-conscious coating system.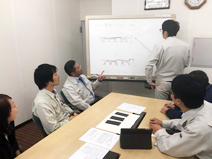 Return to the top of the page.
We carry out our global business taking advantage of the Axalta network.
Using Axalta's worldwide network, we manufacture and sell coatings in many parts of the world, and provide technical support.
Also, we have affiliate companies in Taiwan, China, Indonesia and an associated company in Malaysia. In collaboration with the associated companies of SHINTO PAINT CO., Ltd. in Thailand, the Philippines and Indonesia, we manufacture and sell coatings to customers that have hubs in the Asian region.